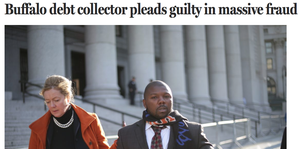 A recent article in the Buffalo news (http://bit.ly/2fpDUUO)  highlights the difficulties faced by innocent debtors who have to deal with dishonest or overly aggressive debt collectors.
 A lot of people have debt, sometimes because of their own poor decisions but more often because of unfortunate job losses, health problems, and overwhelming financial difficulties that can happen to anyone, anytime.
 Responsible debtors will do what they can in an honest attempt to address their obligations. However, that doesn't stop dishonest or overly aggressive debt collectors from harassing debtors, lying to them about going to jail for not being debts, or exploiting their circumstances by padding debts,  making false claims, attempting to collect debts which are legally uncollectible, and more.
 No one should have to put up with this kind of activity. Sometimes, the governmental authorities discover this kind of activity and put an end to it, as noted in the article. However, most of this bad activity goes unnoticed by those authorities and innocent folks are deceived, harassed, and exploited by these bad actors.
 Debtors should be aware that they do have rights under both federal and state law to deter and control these activities. If you are a debtor, you have a right to insist upon written verification of the debt and the amount. You have a right to be free of collector contacts during unreasonable times and improper  places (like your workplace.) You have a right to know whether the debt being collected is legally uncollectible because of the statute of limitations, meaning it is too old to be subject to legal collection. You have the right to force the collector to stop collection activity entirely upon your request.
 If you are being challenged by these types of collectors, assert your rights!
If you believe you need help, you can contact my office and I will bring my 30+ years of experience dealing with collection activity to bear on your behalf.