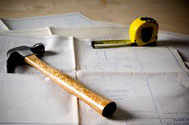 Home-improvement scams are a favorite way for miscreants to get their grubby hands on your money.  In our area in Western New York, no license is necessary for anyone to hold themselves out as a home improvement contractor.  In fact, they don't even need any skills or training.
 If you are approached by a home improvement contractor or if you are searching for one, make sure you protect yourself.
 Don't commit or sign any contract without checking out the contractor before hand. Ask for recent references, check any Better Business Bureau profile, use local contractors that you can verify,  and if you know how and have an account, check the County Clerk's records where you live and where the contractor does business for judgments and lawsuits.
Make sure you are dealing with a professional, responsible, inexperienced contractor.  Get more than one estimate and compare them. Don't assume that the lower price is the best deal. 
 New York State General Business Law provides that contracts generally be in writing and contain a number of consumer protection provisions, including a three-day right to cancel under most circumstances.
 If you need help, the John Suda Law Firm is here to help you. We can research contractors, review contracts, and advise you on how to handle your relationship with your chosen contractor. In most circumstances, we can do all this at low cost.
 Be careful out there!