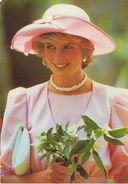 Here's one: Princess Diana
Photo credit: Flickr/tg250607
Initially, there didn't appear to be any problems with Princess Diana's will following her passing in 1997. Her will stated that her executors (her mother, her sister and the Bishop of London) were to pass on equal shares of her estate to her two sons when they turned 25. Plus, her 17 godchildren were supposed to receive certain possessions that belonged to the princess.
Apparently, however, Princess Diana also had a "letter of wishes" that divvied up her estate differently than her will indicated, giving her godchildren a greater share of her assets. But because the instructions in the letter weren't added to the will, the executors reportedly ignored the letter. Instead of getting $440,451, each godchild inherited personal items like furniture and clothing.
Lesson? Review your existing will to make sure it reflects your intentions. If not, or if you have NO will, you can contact me to get this fixed.
https://smartasset.com/life-insurance/celebs-without-updated-wills?utm_source=outbrain&utm_medium=cpc&utm_campaign=out__celebs_no_wills_7
John Suda Law Firm